sweet cecilia earns grammy nomination
Sweet Cecilia Honors Family Patriarch,
Earns GRAMMY Nomination With A Tribute To Al Berard
Louisiana-based Family Band Nominated for "Best Regional Roots Album" with New Album, Which Salutes Longtime Influence of Father, Uncle, and Renowned Cajun Musician Al Berard 
 
NASHVILLE, Tenn. (December 7, 2020) — Years before sisters Laura Berard Huval, Maegan Berard Rankin, and cousin Callie Guidry formed the award-winning Americana trio Sweet Cecilia, the three women grew up together in rural Louisiana, encouraged to make music by their family's guiding light, Al Berard.

Released on February 10, 2020, A Tribute To Al Berard honors the larger-than-life father, uncle, fiddler, and acclaimed recording artist who spent his life promoting Cajun culture. Co-produced by Sweet Cecilia and GRAMMY-winner Tony Daigle (B.B. King, Jon Cleary, Jo-El Sonnier), the album finds Al Berard's daughters and niece honoring his legacy while continuing to create their own. It's a mix of Cajun influences, three-part harmonies, South Louisiana folk music, country storytelling, and first-rate picking, all fused together into seven stunning songs.

A Tribute To Al Berard's GRAMMY nomination for Best Regional Roots Album marks the continuation of a unique family tradition. Al Berard received his own GRAMMY nomination with his band The Basin Brothers in 1990 for Let's Get Cajun, an album steeped in the musical traditions of his home state. 30 years later, A Tribute To Al Berard resurrects and reinterprets that Cajun sound for a new generation, while still honoring Sweet Cecilia's musical roots.

Since the album's release, all proceeds from A Tribute To Al Berard's album sales have benefited the Al Berard Memorial Fund, which continues Berard's efforts to preserve Cajun music by supporting community projects that promote the cultural heritage of Acadiana. The Fund also provides instruments and music scholarships to students of all ages.

Released on the heels of the band's 2015 debut Sweet Cecilia, and their award-winning 2017 album, Sing Me A Story, the GRAMMY-nominated A Tribute To Al Berard marks one of the year's most deserving success stories. It's a musical mix of past and present — an album that's traditional and progressive in the same breath, turning a new page in the legacy of one of the most enduring families in modern-day South Louisiana music.
 For more information about Sweet Cecilia or A Tribute To Al Berard, please contact:  
 Jackie Marushka - 615-417-6500 or Jackie@MarushkaMedia.com 
Sweet Cecilia Media Assets: https://www.marushkamedia.com/sweet-cecilia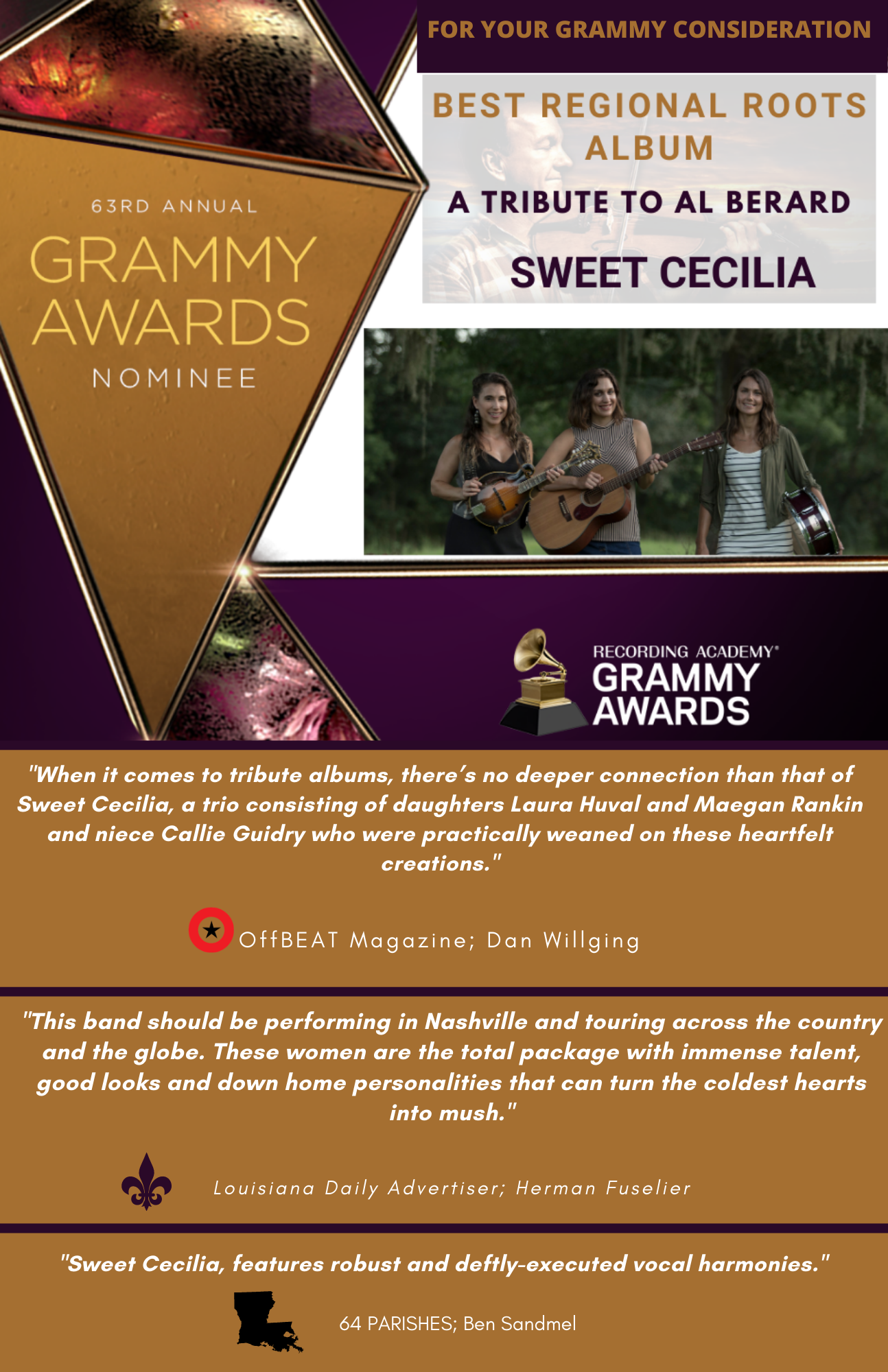 LISTEN TO THE GRAMMY NOMINATED ALBUM
A TRIBUTE TO AL BERARD ALBUM REVIEW
"

When it comes to tribute albums, there's no deeper connection than that of Sweet Cecilia, a trio consisting of daughters Laura Huval and Maegan Rankin and niece Callie Guidry who were practically weaned on these heartfelt creations" - Dan Willging
"

Flavored with much more than South Louisiana essence, A Tribute to Al Berard merges luxurious washes of sound with crème de la crème vocals. It's easy to see why A Tribute to Al Berard was nominated as one of the paramount albums of the year." - Randy Radic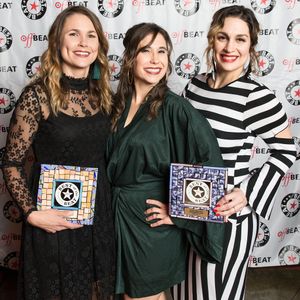 "

Sweet Cecilia sweeps the 2017 "Best of the Beat Awards" for Best Country/Folk/Singer-Songwriter Artist and Album""